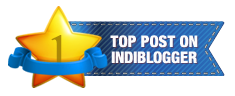 Absolutely brilliant book !!! I usually prefer reading big books,cause they allow me to stay long in their world..Henceforth this tiny book with pages less than 150 was among few leftovers in such category..But after finishing this book,I must admit that it is not quantity but quality that matters..Animal farm was such a gem of political fiction written by George Orwell..It falls under the category of allegorical and dystopian novels.
Image from Google
This book is a panoply of the concrete structure of society and the way it works..Few animals in Manor farm revolt against their master Mr.Jones and successfully establish a society of their own i.e,a society only meant for animals..They name it as 'Animal farm'..They constitute some seven commandments and start living accordingly..Though initially all the animals are free from the tyrannical humans,slowly and unconsciously they become submissive to Snowball and Napoleon (pigs) who are very good at brains..After some time Napoleon uses his secret army of dogs to castaway Snowball and raise as an independent ruler..Under his cruel reign all the animals suffer even more..So as the earth is round,the story again comes to the point,where it actually started..
Few lines from the book,
Somehow it seemed as though the farm had grown richer without making the animals themselves any richer-except, of course, for the pigs and the dogs.
And yet the animals never gave up hope. More, they never lost, even for an instant, their sense of honour and privilege in being members of Animal Farm. They were still the only farm in the whole county — in all England! — owned and operated by animals.
You can apply this plot to any civilization or culture or community..I feel this story fits well in almost every society,though the author wrote this story representing Napoleon as Joseph Stalin,who ruled Soviet Russia for nearly 35 years..Coming to Snowball who represents Leon Trotsky,he is an intelligent pig who is very devoted to his community but lacks diplomacy and administrative/cunning tactics like Napoleon..Coming to other characters,Boxer,the horse represents the truly hard working people in the society while the Sheep represents the ordinary people who live like sheep..Benjamin(the donkey) and Clover(horse) represent few wise people in the society who know everything but never dare to raise their voice while the dogs represent the army of power..Squealer,another pig appears to be the powerful media which influences the society in every possible way..Among all characters,I loved Boxer very much..The sincere and hardworking creature,finally sent to slaughter house when it turned old..
George Orwell-Image from Google
Twelve voices were shouting in anger, and they were all alike. No question, now, what had happened to the faces of the pigs.The creatures outside looked from pig to man, and from man to pig, and from pig to man again; but already it was impossible to say which was which
Animal farm is a wonderful satire on the political and social terms..It deals with the friction between high society with brains and the labour class with hard work..It depicts the formation of society in different stages like slavery to democracy and democracy to communism..We can easily relate ourselves with many characters from the book..I loved the final part especially and couldn't stop laughing where the seven commandments of the animals were reduced to only one which says..
"ALL ANIMALS ARE EQUAL BUT SOME ANIMALS ARE MORE EQUAL THAN OTHERS""
And another slogan from sheep like,
"Four legs good, two legs BETTER!"
at the end..
Truely wonderful write-up..Looking forward to read few more from George Orwell..I strongly recommend this book to every one.Classics are truely gold..Don't miss it guys..Happy reading :)
Later this was made in to an animation movie. Here is the link..
https://www.youtube.com/watch?v=3YYEoWAAmDE