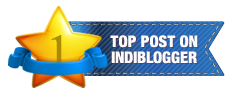 With Gulzar's photo on the cover page,do you need any other luring factor to pick up this book ?? .Being a fan of Sampooran Singh Kalra,popularly known as Gulzar,I had few expectations over this book and it came out as a promising read..His eminence as a poet/lyricist is worldly acclaimed..This book adds to his caliber as a short story writer..If we observe,there is something most significant about his movies and writings.His words,straight away make their way deep in to the heart..This book has 25 stories,a few depicting the real life experiences of some popular people like,Kuldeep Nayyar,Sahir Ludhianvi,Javed Akhtar and Bhushan Banmali etc..
Copyright A Homemaker's Utopia
Among these stories,'Sahir and Jadu' was my favourite..It is a tale of great friendship between two legendary poets and lyricists,Sahir Ludianvi and Javed Akhtar..The bond that held them together was quite unique..Jaadu never had good terms with his father and he makes a beeline to Sahir's,whenever he had a quarrel at home..Young Jaadu was mercurial and rebellious by nature..Not only as a friend but Sahir had raised him as a parent..Once Jaadu borrowed a hundred rupees from Sahir..But he deliberately escapes to repay that amount..But after Sahir's death,Jaadu pays hundred rupees for the taxi that carried Sahirs dead body..It might be a coincidence,but Jaadu burst in to tears saying "He did find a way to squeeze out his hundred rupees..even in his death"..It was a heart touching with the undertone of irony.
Few lines from the book about Javed Akhtar,
Jaadu was a man of honour,and since he was young,his sense of self respect was a little exaggerated.His nose was often in the air,and his attitude turned a notch higher.God alone knows what he ate,where he slept,how he managed to live during the days he was away.
Another story 'The Charioteer' is a story of a daily wage earner Maruthi,a boat cleaner..He faces scoldings and insults from his master,albeit at the end of the day all his troubles would melt away by the moment he reaches home..He feels content with his life by having a loving family of seven people..This story depicts the importance of family and good relations.
A man is forever in search of a co-traveller.
A soldier's words,
O'Ji,that's just a grandiloquent feeling.It is all about the splendour of the uniform and the charm of the army baret,and the status that it adds to a man's prestige.I don't think that men become soldiers to die and kill for the country.
When you face your fear,you become familiar with it and familiarity makes it lose its meaning,loosen its grip-fear ceases to be fear.
About Mumbai,
You want to live here in this city-don't become a turmeric.Become chilli,red hot chilli.
Few more stories like 'Over','The Rams','LoC' and 'The Stone age' focussed on Indo-Pak border issues and suffering of common people due to Kashmir conflict..Quite surprisingly,friendly terms between the soldiers of both countries is the most unexpected and unknown part of these stories.
We definitely remember Masoom movie for which Gulzar wrote the screenplay,while reading 'Gagi and Superman'..
The reader will have a close encounter with few lives on Mumbai footpaths in the two stories- 'From the footpath','Half a rupee' ..These stories mirrors the insignificant lives of people below poverty line in Mumbai..
In another story 'Orange',the author shed some light on global warming and pollution..The comparison of earth with fresh Orange was thought provocative.
'The Adjustment' is one more beautiful story which depicts the old age issues..I loved it like anything..Being unable to digest the death of his wife,Dadaji starts behaving like his late wife..When she was alive,he used to be well adjusted with her ways all his life..He could not perceive her as dead and thus starts living a double life..Also these two stories :'Dadaji' and 'Dusk' carries almost similar concept..These stories surely make us remember our elderly people back home..
This book makes you experience each and every shade of life..It's like an early morning walk in the grass..But some times you fell like you've lost in the middle of a thorn forest..While some stories bring a smile on your lips,some throw you in to the depths of despair..All in all,it is enjoyable read with a good cup of coffee..Happy reading friends..:-)
Pages :218
Publisher : Penguin group
Price :299/-