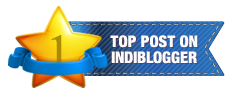 The novel 'The Fire on the Mountain' is a constant squabble between fiction and reality of life..One of the finest novelists of India,Anitha Desai has won the prestigious Sahitya Akademy award for this book..
Copyright A Homemaker's Utopia
The main character in the story,Nanda Kaul lives at Carignano,completely isolated and alone in the mountains of Kasauli (Himachal Pradesh)..Being fed up with her past busy life as Ex-Vice Chancellor's wife she so much longs for lonely life in peace..After fulfilling the responsibilities towards her family,she moves to Carignano after her husband's death and starts living there calmly..Her frozen heart starts melting with the undesirable visit of her great grand daughter Raka..To her amazement,Raka is so similar to her..Not any of her children were like that..On the other hand,Raka is too much in to herself and ignores Nanda Kaul,wandering like a free bird in the mountains,enjoying nature..But Nanda Kaul strives to spend her time with her,wish to open up to her..But Raka doesn't like her great grand mother's company..She wants to explore the nature on her own..
Raka wanted only one thing-to be left alone and pursue her own secret life amongst the rocks and pines of Kasauli.If Nanda Kaul was a recluse out of vengeance for a long life of duty and obligation,her great grand daughter was a recluse by nature,by instinct.She had not arrived at this condition by a long route of rejection and sacrifice-she was born to it,simply.
Meanwhile Nanda's childhood friend Ila Das visits Carignano and Nanda feels more uncomfortable for intruding into her peaceful life..Now,the story further deals with the emotional aspects of the three different personalities who doesn't even slightly go out of their way,protecting their identities and shells in such odd company..
Fantasy and fairy tales had their place in life,she knew it so well.Why then did she tell the child the truth ? Who wanted truth ? Who could stand it ? Nobody.Not even herself. 
Why ,it's been a little bit of the past come alive.As if the past still existed here and I could simply come and visit it and have a cup of tea with it when I was tired of the present.
The author successfully presented the darker sides of life in a milder tone of tranquility..Nature lovers really enjoy this book because there are some beautiful illustrations about mountains of Kasauli..In the beginning, this book makes you feel like,life is a wonderful journey if we choose nature as our companion..You'll fall in love with each and every line till then..Characterization and personality disorders of Ila Das also makes you smile sometimes..But slowly helplessness,vexation and bitter realities of life in those beautiful mountains take the front row and dilutes the beauty of the nature..I'm sure when you finish reading this book,your heart fill with bitterness and despair..I was spellbound by the author's narrating style.Would love to read more books from her.I must say it is one of the best from a woman writer..Happy reading friends :-)